Our Send By Post system is changing!
From the 23rd of February, the MakeLeaps Send By Post service, that allows you to send your document to anywhere in Japan for ¥199, will be renewed and improved.
We will integrate with a Japan based specialist printing company that will enable us to offer even greater security and automation for this popular feature. This change will further enable us to more easily build features and improvements to the MakeLeaps Send By Post system.
Try our renewed send by post feature for free!
*The cost of Mail points are unchanged at ¥199 per document
◎For paid users → 10 mail points
◎For free users →   3 mail points
(points will be automatically added on 23rd of February)
The Changes
① Envelope/Address

The envelope windows will become larger.
The document reference number will be shown for easier tracking.
The printing companies name and address will be written in small text.
The postage stamp information will change from Deferred Payment (料金別納郵便) to Postpaid (料金後納郵便)
② Document PDF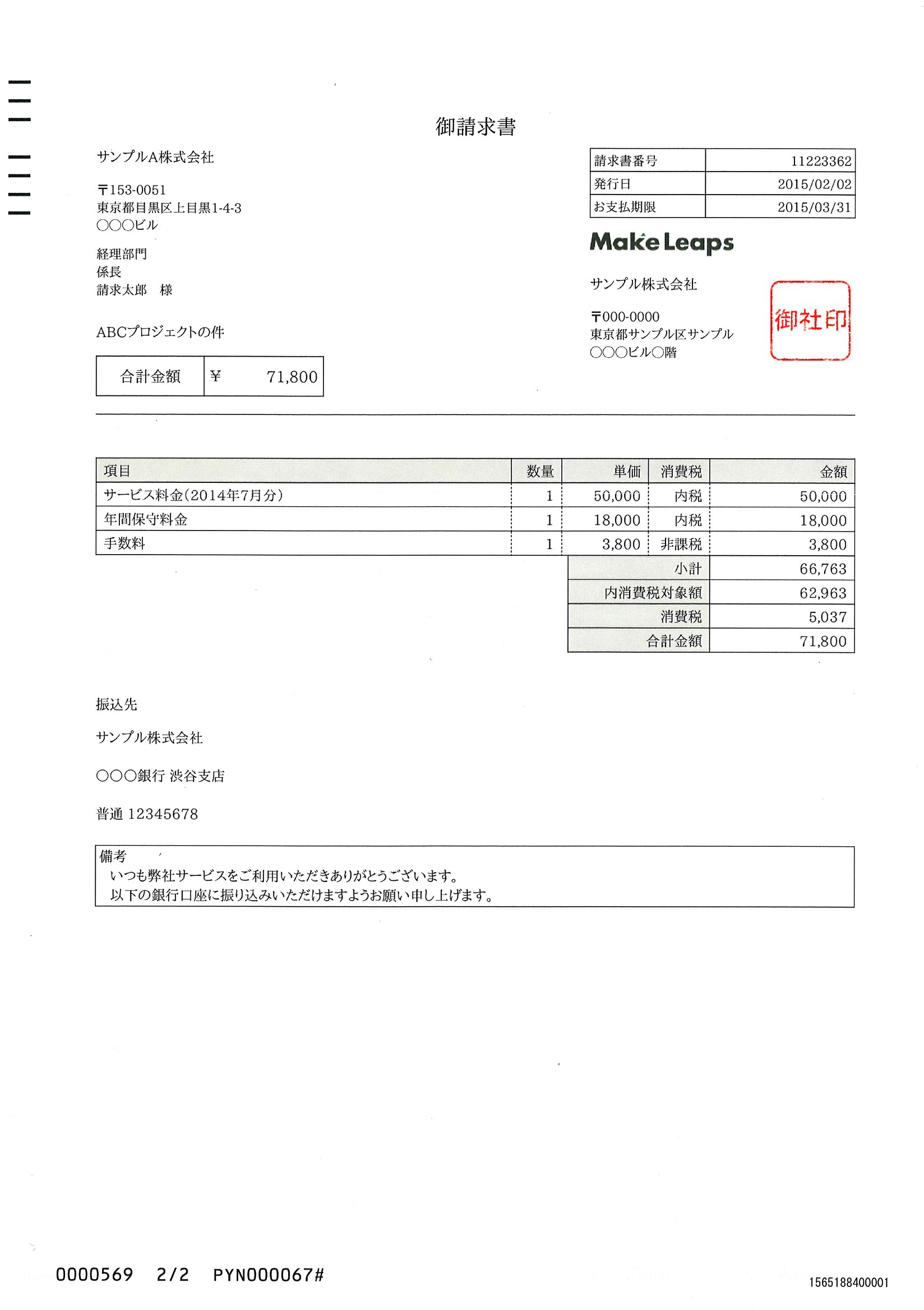 For tracking and system confirmation purposes, there will be small black marks on the upper left side of the paper, and reference numbers printed at the bottom of the documents on both sides.
Due to printing specifications, the document size will be reduced by 9.52% 

(note: 

Company logo and stamp will also be reduced

)

Cover letter will be enclosed as always.
③ Cut-off time for sending request
After 23rd of February, documents that are sent by 6pm on a business day, will be processed and sent on the next business day.
Requested

Before 6pm

→ Posted next day
Requested

After 6pm

 → Posted two days later 
(i.e.)Requested on Monday 2pm → Will be posted on Tuesday
(i.e.)Requested on Monday 7pm → Will be posted on Wednesday
④ Canceling
After clicking the 'Send By Post' button, you will have 30 minutes to cancel your request. After 30 minutes, the document status will change to 'Requested' from 'Processing' , and it will become impossible to cancel your send by post request.
| Actions/Timing | Status | Notification | Cancel |
| --- | --- | --- | --- |
| User requested Send By Post | Requested | "Request Received" Email is Sent | Possible |
| 30 Minutes after Send By Post | Processing | N/A | N/A |
| Document is Sent By Post | Mailed | "Document Posted" Email is Sent | N/A |
| After Cancelling | Cancelled | N/A | N/A |
| User requested Send By Post | Error* | "Document Post Error" Email is Sent | N/A |
* Example errors include: A document with more than 5 pages requested for post, and errors with the recipient address.
Starting date
This new system starts on the 23rd February, 2015.
Contact us
We're all working as hard as we can to make your administration and work fast, easy and smooth.
If you have any questions or concerns, please feel free to contact us any time.
Support :Weekdays (9:00〜18:00)*not available on weekends and Japanese holidays
Email address: support@makeleaps.com
Phone number: 03-4550-1548