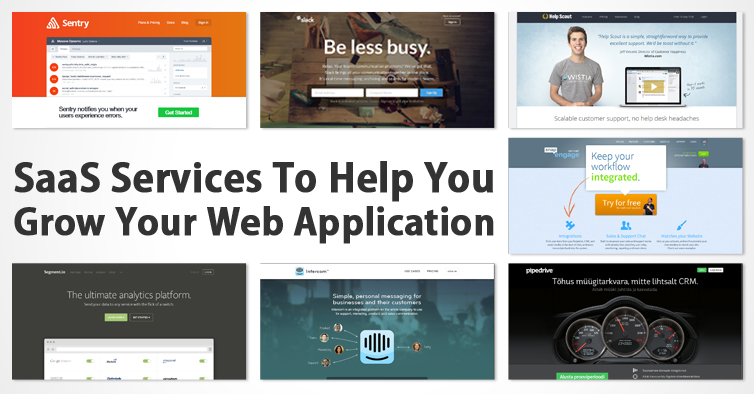 These days you can skip right past weeks, months or years of programming work by integrating with services that solve a specific problems. This is beneficial for both the development and marketing teams, because non-technical staff can now take advantage of very powerful systems that are both powerful and and user-friendly.
For example, a typical request such as "I want to email all users who have signed in the last 3 day, who are using the Japanese language" becomes 2 minutes of a marketing staff's time in a 3rd party application, rather than 3 hours of a back-and-forth between the development and marketing teams.
Note: This article is primarily focused on the services we use in Japan for our B2B SaaS startup, but these services would be even more relevant if we were targeting English speaking markets.
Here is how we've integrated with a few web services to vastly improve our system, and also how we interact with our customers.
Services Dashboard
Segment IO
Segment IO is the centerpiece that ties all the services together. With one line of code, you can easily turn a wide range of services off and on, just by clicking on/off.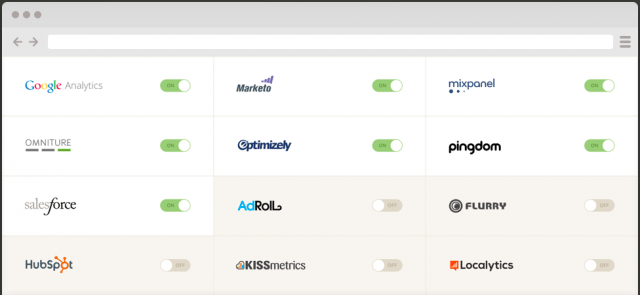 We've set up 2 separate Segment IO profiles for the marketing site (http://makeleaps.jp) and for the MakeLeaps application (https://app.makeleaps.com), in order to ensure we're always only running necessary services.
Chatting for Sales and for Application Support
In Japan, the general quality of service is so high, it's hard to differentiate your web service by just providing excellent service. So in addition to good support, we also need to provide:
Instant support – when we get a chat, aim to respond instantly.
Human support – we hire our customer support team for their ability to simultaneously be friendly and professional. This is actually quite challenging in Japanese.
Empowered support – our customer support team has a lot of power and respect inside MakeLeaps as the most direct line of contact with our customers. Our support team has a lot of influence when it comes to feature requests and product roadmap.
With that in mind, we use 2 chat services – one on the marketing side, and one inside the application.
Application Chat – Intercom
Intercom has tremendously improved the way we communicate with our users. It's personal, friendly, and fun to use (for users and for us). There is a [?] in the bottom right hand corner of the application, that people can click on and easily get a chat window directly to MakeLeaps staff.
Because it's fast and easy to write to us, we get many short feedback messages that are full of valuable and helpful comments and feature requests. We can also use intercom to send notifications and emails to all users, or specific users.
▼「Intercom」Interface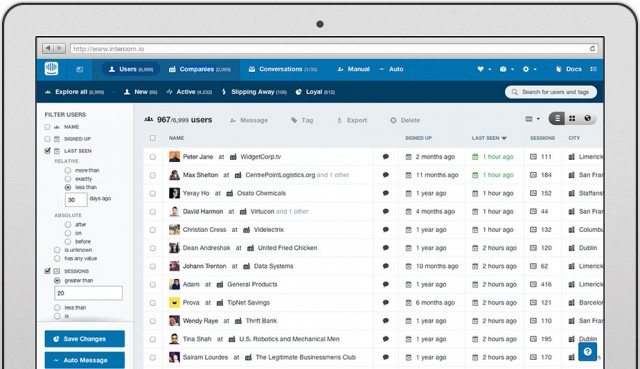 ▼User Interface (? in bottom right hand corner)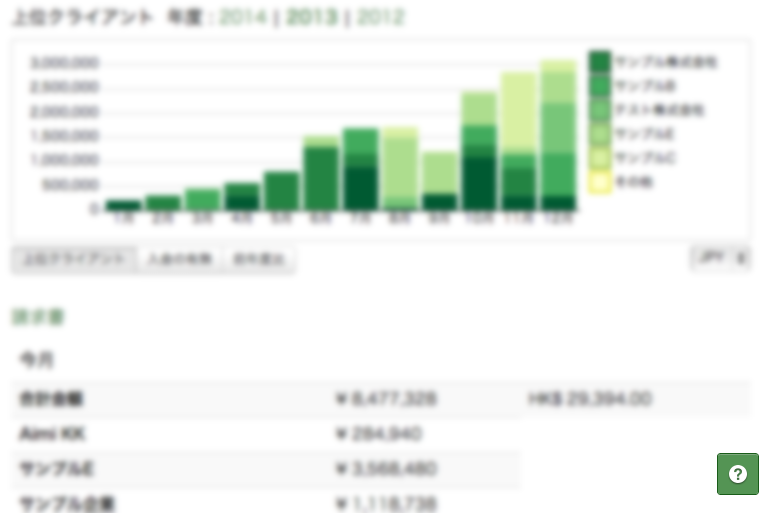 ▼Clicking the green ? lets our users quickly and easily send us messages
Sample usage: Chrome 32 Error
A few days ago, we received a user report through Intercom saying that moving line items in invoices is weird. It still works, but as soon as you start dragging a line item, it jumps 20 pixels up the screen. We looked at Intercom and checked the browser version – it was the new Chrome 32 that was starting to be deployed across the internet.
We upgraded to Chrome 32 and tested on our side, and we could reproduce the problem. Our developers started working on a solution. While we were doing this, we wrote a notification that was only sent to people using Chrome 32.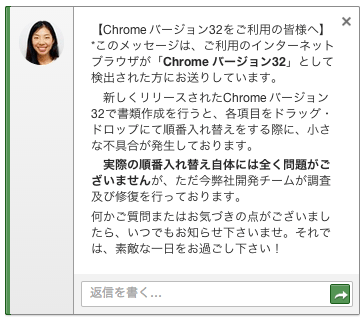 We pushed out a new version of MakeLeaps that fixed the bug, and we disabled the auto-message. All in a day's work!
Japanese support: The Japanese support is good. MakeLeaps actually did the translations for all the user facing text, so we're confident to recommend it. The interface itself is all in English currently, although Japanese may be supported in the future.
Marketing Chat – SnapEngage
We initially implemented live chat on our marketing site, with limited success. However, after we began customising many of our messages to the pages that our potential customers were reading, we noticed a big jump in engagement, conversions and plan upgrades.
Here are some real examples of pages, and the personalised messages we've generated, and the Snap Engage string you can use to make your own.
▼Proactive Chat Message Settings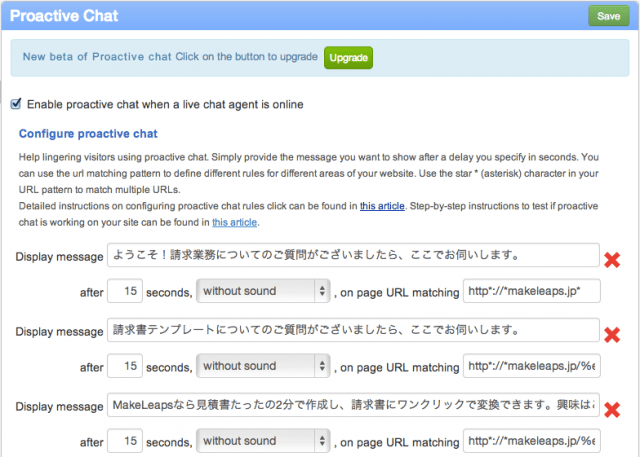 Page
Personalised Message
Snap Engage String
Default Message
http://makeleaps.jp
ようこそ!請求業務についてのご質問がございましたら、ここでお伺いします。
(Welcome! If you have any questions about invoicing, just let us know here.)
http*://*makeleaps.jp*
FAQ Page
http://makeleaps.jp/q-a/
解決できましたか?他にご不明な点があれば、ここでお答えします。
(Did you get an answer to your question? If not, let us know here.)
http*://*makeleaps.jp/q-a/
Pricing Page
http://makeleaps.jp/料金/
料金について分からないことはございませんか?30日間の無料トライアルに興味にあれば、ここでお伺いします。
(Is there anything unclear about our pricing? If you're interested in our 30 day free trial, let us know here.)
http*://*makeleaps.jp/
%e6%96%99%e9%87%91/
Customer Contact/Customer Support
Help Scout
A few months back, we stopped using Zendesk. While it's still good product, we felt like it became a bit too bloated with features for our relatively straight-forward requirements.
Plus the entire workflow of "Hello, your email is important to us. You have been assigned #42119139499293. Please wait 24 hours for a reply." just seems non-personal and distant.
I started looking at alternatives in the help desk management application space, and did a trial of Helpscout.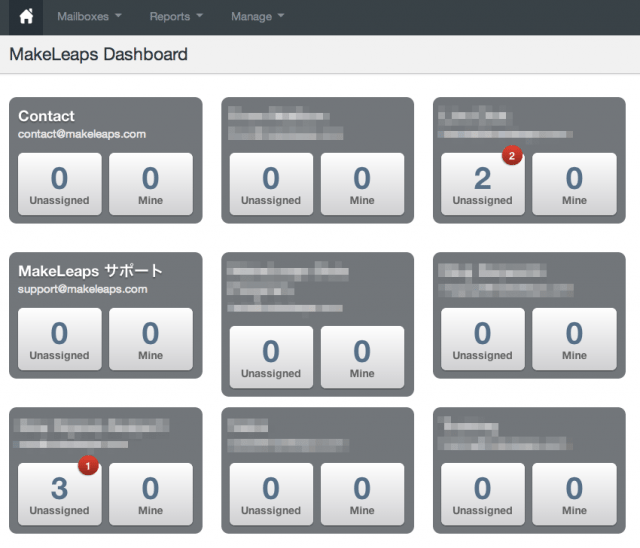 It's easy to create new mailboxes that people can share and search. Collaboration is easy and straightforward.
We get all the benefit of having a management system, allowing people to work together. It's also a much simpler, cleaner interface compared to Zendesk, although admittedly Zendesk now has much deeper Japanese support.
Japanese Support: Similar to intercom, we've had no user-facing issues with Help Scout. However again, the interface is currently all in English.
Developer Tools
Sentry
We use a developer tool called Sentry to determine when users hit errors or problems inside the MakeLeaps system, so we can contact them.
Sample Usage – Failed Hanko Upload
A user tries to upload their hanko, but it fails with an error.
Our development team investigates, and finds the user tried to upload an unsupported image format.
The dev team contacts the customer support team, and explains the issue.
The customer support team proactively contacts the user (using Intercom), saying "Hi! We noticed you got an error before. We're sorry. After investigating, we've found that the file format is incorrect. Would you like help in converting to the correct file format?"
We help the user upload their hanko, and confirm everything is working well.
Internal Team Communication
Slack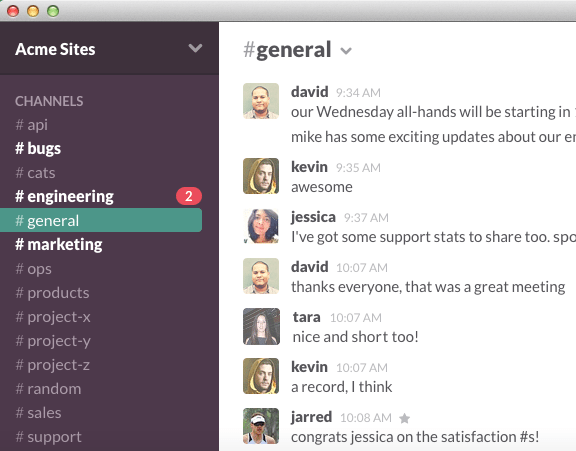 After using Skype for a long time, we eventually changed over to Hipchat. Hipchat was good, but there were a few key features lacking that made it difficult to use, such as an awkward notification system, a buggy iOS app, and the inability to edit your messages after you've posted them. A few weeks ago, we changed over to Slack.
Slack is beautiful, simple and powerful. It also has a great native Mac OS application, and a great iOS app. There is not currently a native Linux app though (much to the annoyance of our Linux using team members), however the web client provides great functionality.
Japanese Support: The UI is in English, but it works fine. The search function is currently a little bit broken for Japanese, but we're told it'll be fixed soon.
Pipedrive
At MakeLeaps, we need to juggle a lot of partnerships with other SaaS companies, accountants, and big companies. We also receive many requests for custom plans and quotations.
We've found Pipedrive to be an effective way to keep track of all our opportunities, and all of the current states they happen to be in.
▼「Pipedrive」Interface

For instance, we have an Enterprise Customer workflow with the following segments:
Opportunity identified!
Scheduled first call/meeting
Requirements gathering
Provided Quotation
Invoice Issued
At a glance, it's easy to get a birds eye view of all the open opportunities.
Japanese support: The UI is all in English, but Japanese input works fine.
Summary
It's a very exciting time to be working on a SaaS product, considering the amount of companies out there who are building tools like these to help you. Also, one of the other happy benefits is regular system updates, offering new features.
Further, the systems that do become popular in Japan will start to focus more on Japanese support and features – exactly like Evernote did. Many systems do not currently directly support Japanese or Japan, but if you can get past the English UI, you can access a world of benefits and save a huge amount of time, and make your users more happy and successful.