We hope you're having a great March, and a great start to the year. We're excited to roll out a bunch of new MakeLeaps features to help you create and send your documents.
New Line Item Types – Simple and Normal
For line items in quotes and invoices, we now we have simple:

and normal:

This will allow you to create more detailed and informative documents.
Unit Types
We've added "Units" for when you need to invoice for many individual things, or measurements of things. For example: hours, kgs, PCs, etc.

Multiselect
This is a big one. You can now select multiple quotes and invoices, and perform group operations.
The first group operations available are:
Send By Japan Post
Bulk Download of PDFs (Maximum 20. Feature available on all paying plans. )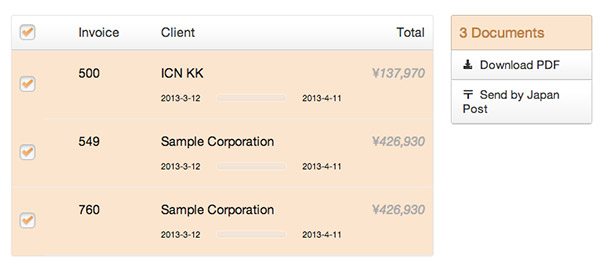 Invoice Import
We've updated our invoice import file. Import and automatic bulk invoice creation is available to all paying plans from Car and above.
For more information please check this Q&A:
http://www.makeleaps.com/en/q-a/#topic-automatic-creation
Follow-up call
Sadly, due to lack of popularity we've decided to retire this feature to focus on the rest of the system.
As always, we love to hear from you. Please don't hesitate to contact us on feedback@makeleaps.com.