Hello,
Before we get to the exciting announcements in this newsletter, I want to personally thank everyone who took the time to complete our 2 question survey we sent out at the end of September.
We were overwhelmed with the quality and thoughtfulness of the responses. We were gratified to learn that a large majority of responders would recommend MakeLeaps to their friends.
We also received a lot of invaluable feedback and suggestions, all of which we read, and we're taking to heart. We'll continue to work hard to bring you the best invoicing tool focused on the Japan market. Stay tuned for more updates.
MakeLeaps Co-Founder
Jason Winder
New Follow Up Feature
How many outstanding invoices do you have right now? For most freelancers and business owners, doing the work is the fun part. Not following up late payments.
Now, you can outsource these tedious follow up phone calls to MakeLeaps. Simply select a late invoice, and click "Follow Up". You'll get a window to confirming and double-checking the details, then we call for you and you get a report by email.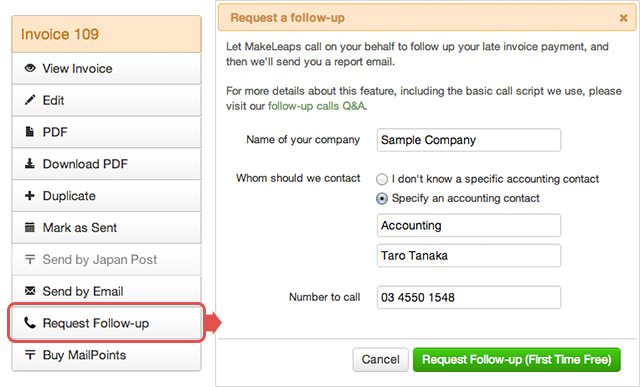 Your first use of the Follow Up feature is free.
Click here for more details about this feature.
New Send Quotes By Post Feature
Now you can send your quotes by post as well, exactly the same as invoices.
For more information about this feature, please click here.
Plan Updates

We have rebranded our plan names, and removed the "one size fits all" Enterprise plan. It's still possible to request an upgrade to the Enterprise plan until the 16th of November.
The more companies using MakeLeaps and contacting us with their feedback, the more we realised that a "one size fits all" Enterprise plan is not practical.
As a result, we're removing our fixed price Enterprise plan, and asking people with complex requirements to contact us for a chat. If you were just about to upgrade to an Enterprise plan, this will still be possible by contacting us directly at contact@makeleaps.com.
Further, we found that our plans were mismatched to our users needs. Some professional companies were well suited to a small business plan, and some freelancers needed professional plans, or even higher.
As such, we're rebranding our plans to :
Bicycle (Previously Free Plan)
Scooter (Previously Freelancer)
Car (Previously Small Business)
Bullet Train (Previously Professional)
Private Jet (Previously Enterprise)
Although the previous unlimited Enterprise plan has been removed, there are no price changes to any plans. These changes do not affect any customers subscribed to a paying MakeLeaps plan.
To see an overview of all our plans check out our pricing page.