We've redesigned our tax system to make our system more powerful and easy to use.
Here is a screenshot of the new line items:

Now it's possible to have 3 different kinds of sales tax available on your quotes and invoices.
Sales Tax
Exclusive Tax – This was the previous default, and is still the default. If you enter a 5,000 yen line item, MakeLeaps will add 250 yen of sales tax for you.

Inclusive Tax – This is a newly available option. If you enter a 5,000 yen line item and select this option, MakeLeaps will calculate and apply 238 yen of sales tax for you.

No Tax – This option applies no sales tax to your invoice item. This is handy for things like expenses.
Withholding Tax
Japanese Withholding Tax is also available for professions in Japan that require this. It works on the standard calculation of 10% up to 1,000,000 yen, and then 20% for all additional amounts. You can enable this in the "Your Company" settings tab.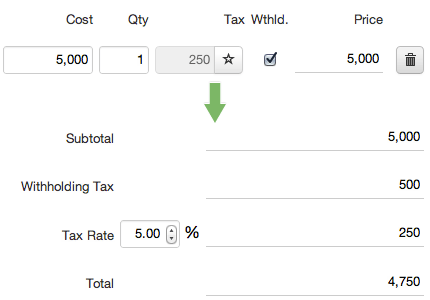 If you have any questions about your tax in MakeLeaps, feel free as always to contact us at (03) 4550 1548 or at support@makeleaps.com any time.
Cheers,
The MakeLeaps Support Team