Invoice Status
One of the worst things when it comes to sending invoices is losing track of the current status.
Which invoices are drafts?
Which have been sent?
Which have been paid?
What invoices are outstanding?
Most peoples invoice lists end up looking like this:

With our new invoice list in MakeLeaps, suddenly you can see at a glance exactly what is happening. When you hover over an invoice, you can see even more information: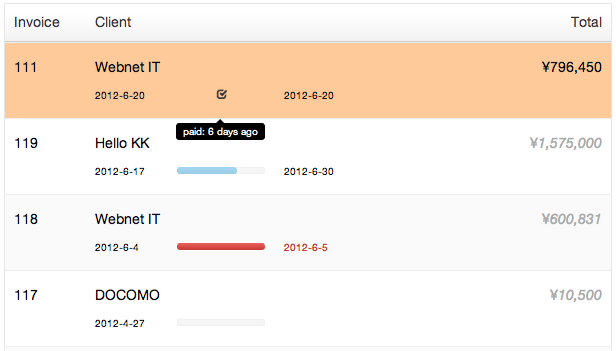 Invoice 111. Has been paid (6 days ago)
Invoice 119. Due within 4 days
Invoice 118. 21 days overdue!
Invoice 117. Draft invoice. No due date, and it hasn't been sent yet.
To experience this new feature, click on the Invoices link in the application, or click here.
User Testimonials
We're very happy to launch our new user testimonials page, where we get to showcase both Partners and Customers talking about their experience with MakeLeaps. Here are a couple of samples :
Creating and sending invoices takes more time than you would expect, and can wear on your nerves. It's not just creating the invoice, it's also getting the address, putting it into an envelope, putting a stamp on it, then sending – it takes more time and money than you would think. MakeLeaps is extremely simple, intuitive and easy to use. It's also very reasonably priced.

MakeLeaps can save a substantial amount of your valuable time, and allow you to focus on your main business. For freelancers, small business owners, accountants like us, and people thinking about starting a business, it's a fantastic product.

Shuichiro Tanaka

President
---
I used to asked my staff to create and send invoices, but all of my staff became very busy and eventually I ended up creating and sending all of the invoices myself. When I found out about MakeLeaps, I thought "This is it!". I don't need to worry about going out to buy envelopes and stamps any more, or writing addresses or printing documents.

After using it for just a few months, I literally cannot believe how convenient MakeLeaps has become. I look forward to continuing to use MakeLeaps as my own virtual secretary!

Abiru Yasumitsu

President
Thank you very much Tanaka-san and Yasumitsu-san for using MakeLeaps!
To view all the customer testimonials, click here.